Mix & Match
Thanks to the convenient screw system, the cover and inside pages can be combined as desired
Expand at any time
The order of the inside pages can be changed and new images added to the Portfolio Album at any time
Versatile use
The clever design makes the Portfolio Album completely adaptable and an indispensable portfolio option
The Portfolio Album
The handmade Portfolio Album is a stylish way to present your work. Thanks to the convenient screw system, both the cover and the inside pages can be exchanged and replaced with new designs and images.
Individual cover design
The handmade Portfolio Album offers you different cover options including leatherette and linen. All covers can also be ordered individually and can be customised with text and clipart.
Interchangeable inner pages
New inner pages for your Portfolio Album can be ordered separately, so you can expand it easily at any time. Pages come pre-perforated with the correct spacing and can therefore be easily inserted.
Which format do you prefer?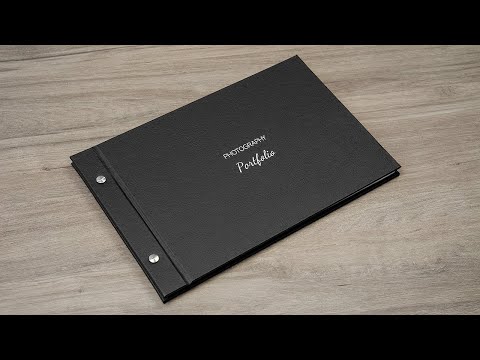 How to create a Portfolio Album with Saal Design
Our handmade Portfolio Album is an ideal choice if you are looking for a stylish way to present your work or simply a very flexible photo album. In this video tutorial we show you some design options our Saal Design Software offers you to create your custom Portfolio Album.